Published: Monday, September 27, 2021 04:23 PM
The Right to Choose is under attack
Last week, I, along with nearly 900 state legislators from across the country, filed an amicus brief with the Supreme Court of the United States urging the Court to uphold the Roe v. Wade decision, which legalized abortion nationwide.
According to the ACLU, in 2021, 560 abortion bans were introduced in some form across the country. I was deeply upset to hear about one of the most troubling ones that made the news recently: a ban on all abortions after six weeks in Texas. This Monday, the Supreme Court announced that it will hear a case from Mississippi challenging Roe v. Wade and threatening to end the right to choose as we know it.
An attack on reproductive rights is an attack on human rights. Women, trans-men and non-binary people who may become pregnant are at great risk of losing the right to bodily autonomy. I have joined other local elected officials in resisting and organizing efforts to renounce the Texas and Mississippi bans and to amplify the voices across our community saying we will not allow Roe v. Wade to be rolled back.
We are fortunate enough to live in a state that values the right to choose; however, we have one more critical task. We must repeal the Parental Notice of Abortion Act, which requires people under the age of 17 who are seeking abortion care to notify a parent, grandparent, step-parent they live with, or other legal guardian within 48 hours in advance of the procedure. The majority of young people who trust these figures in their lives will voluntarily inform them that they are seeking abortion care. But for young people who do not feel safe alerting an adult in their life, they are challenged with navigating the judicial bypass system. This system requires the person seeking care to take time away from school or other commitments, set an appointment with a judge, travel to a courthouse, and expose very personal information to get the care they need. Both the PNA requirement and the judicial bypass system hurt young people who are already forced to navigate systemic barriers in seeking abortion care.
That is why I am proud to be a chief co-sponsor of legislation that repeals the Parental Notice of Abortion Act. I will continue to confront systemic injustices like the PNA and fight for equity for women and young people in the 7th District and across the state and country.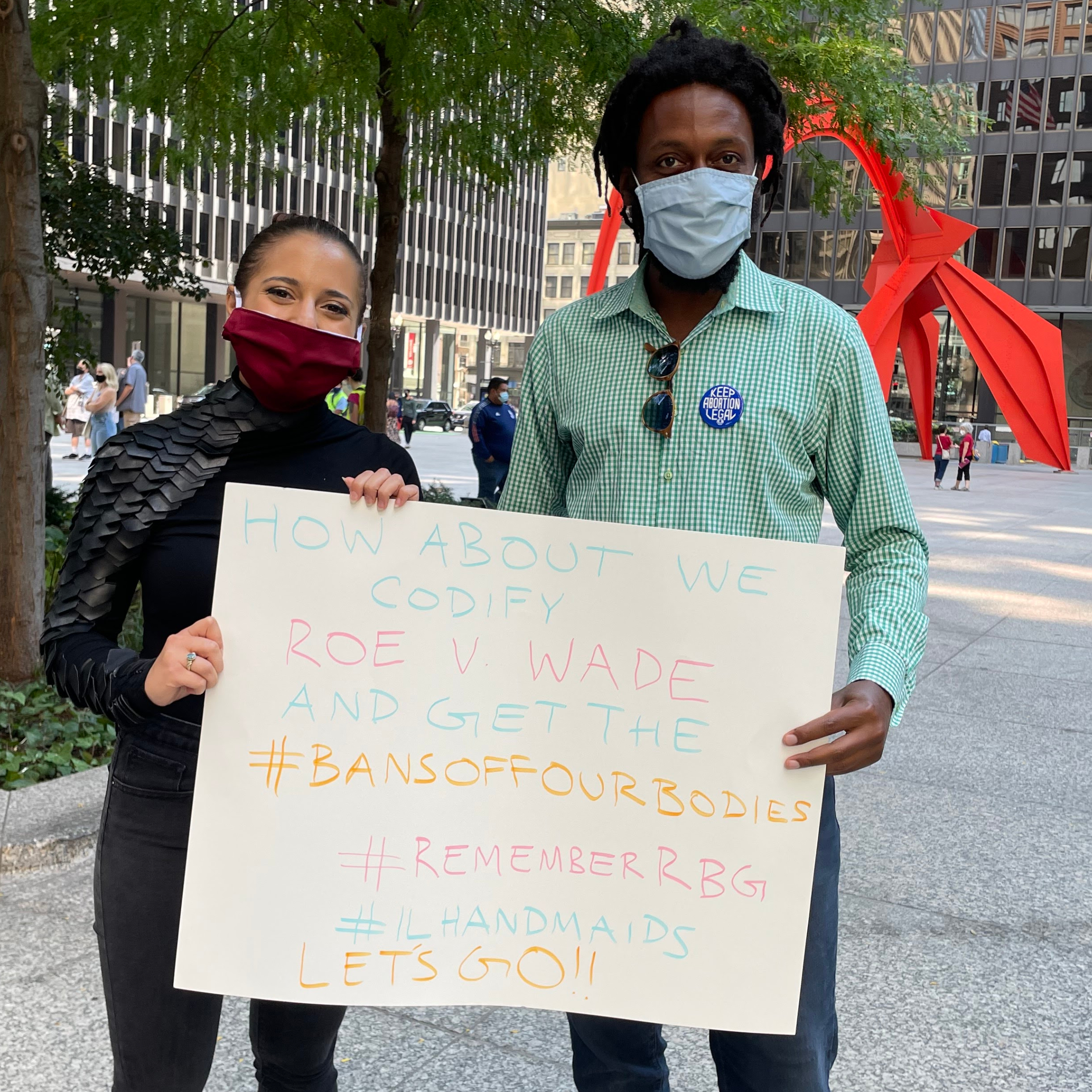 Rental Assistance
We have to move quickly to stave off a wave of evictions and displacement. The U.S. Treasury Department announced last week that state and local officials had disbursed less than 17% of federal rental aid as of the end of August, up from 11% in July. We have an unprecedented amount of federal aid for rental assistance right now, and state officials must move these funds out the door as intended. As you may recall, earlier this summer I wrote a letter to Gov. JB Pritzker urging him to reopen the Illinois Rental Payment Program, which closed in July. I'm happy to announce that we have received word that plans are in the works to reopen the program in the next few weeks. We have not been given a specific date yet, but I am pleased to know that relief is coming soon to those who need it. I will provide you with updates as soon as they are announced.
Unemployment Insurance
Oct. 15 will mark the first payment period after the expiration of Pandemic Unemployment Assistance. Nearly half-a-million people in our state - whose systemic struggles were only exacerbated by the pandemic - rely on this support to keep food on the table and the lights on.
The federal government has encouraged states to be creative with their American Rescue Plan Act funds to support our struggling families. We cannot grow complacent as our neighbors are held down by financial burdens when a solution is feasible and within our grasp. My office is following up with the Illinois Department of Employment Security to find ways Illinois can support residents who were reliant on PUA. My office will keep you updated with the latest information.
Out in the Community
Southeast Asia Center visit on MidAutumn Festival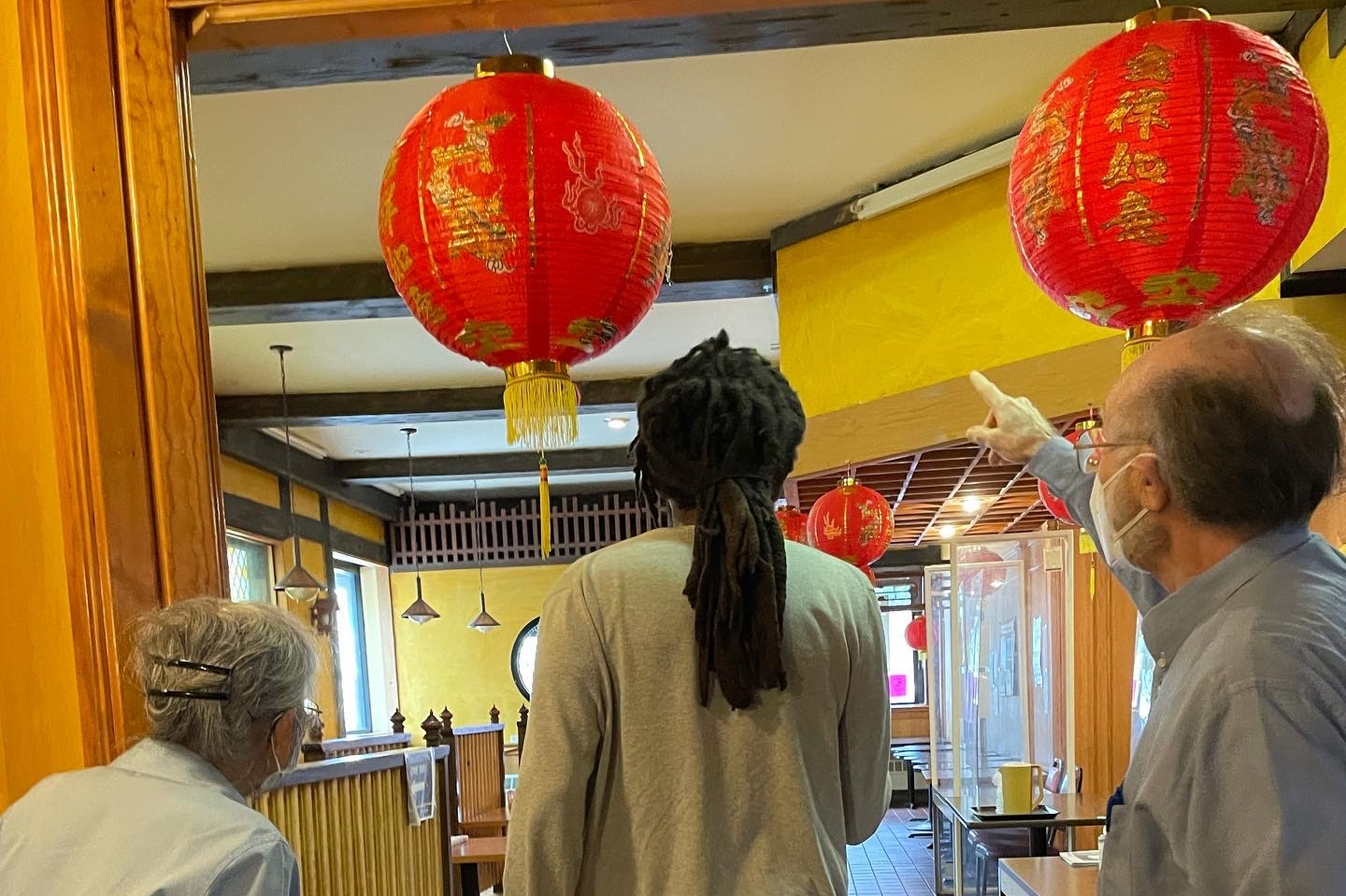 During the 2021 Mid-Autumn festival, I met with leaders at the South-East Asia Center to talk about early childhood care and ways to support community based organizations. Happy Mid-Autumn Festival to all of those who celebrate! I was honored to celebrate and enjoy Mooncakes in the community!
Howard Brown Health Future Executive Program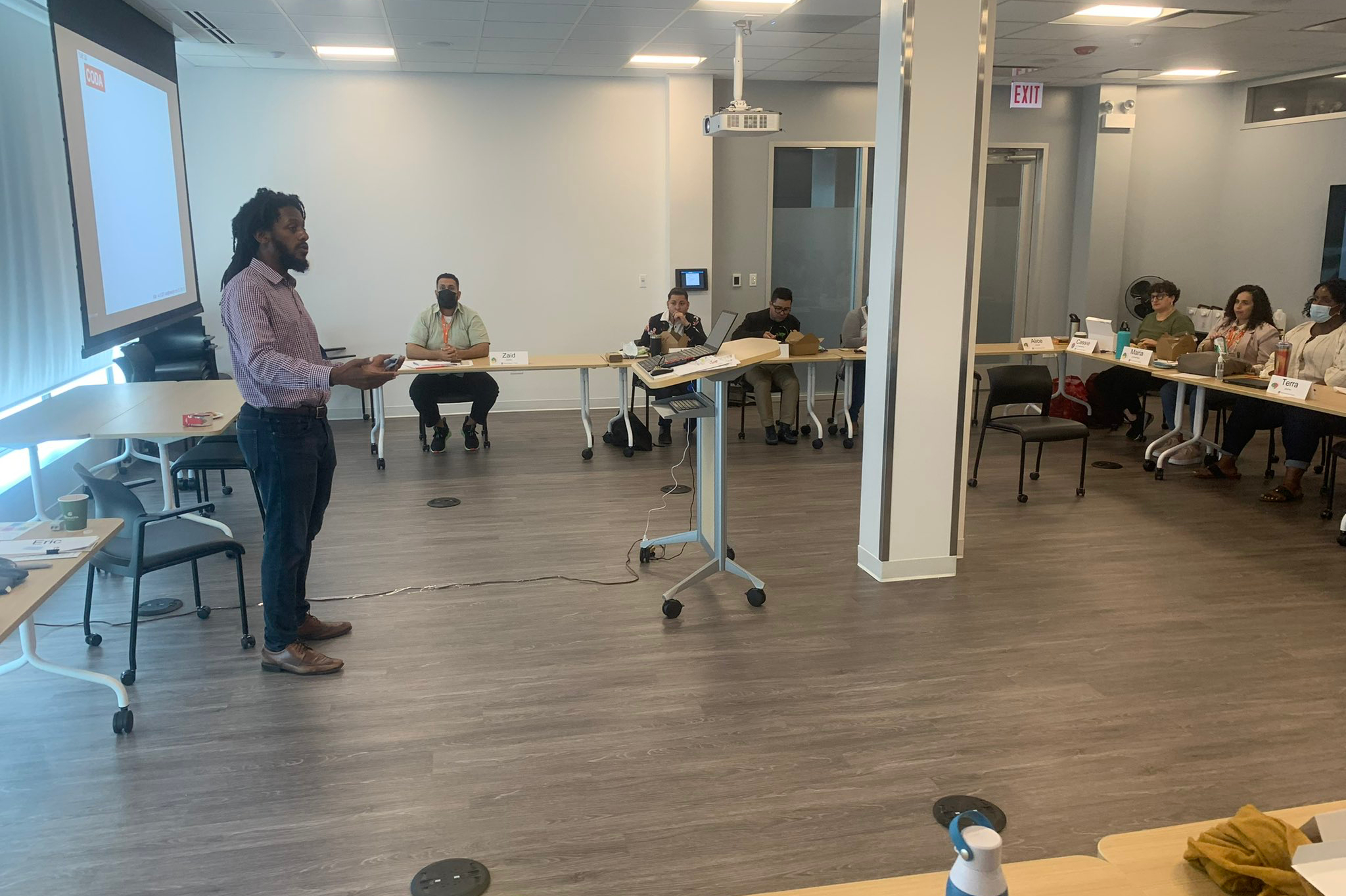 I enjoyed speaking to participants of the Future Executives program at Howard Brown Health! I shared my leadership journey as a gay, Black man and shared examples from my career of how I became a better manager, navigated difficult work environments, and took care of myself.
Black Trans Lives Matters mural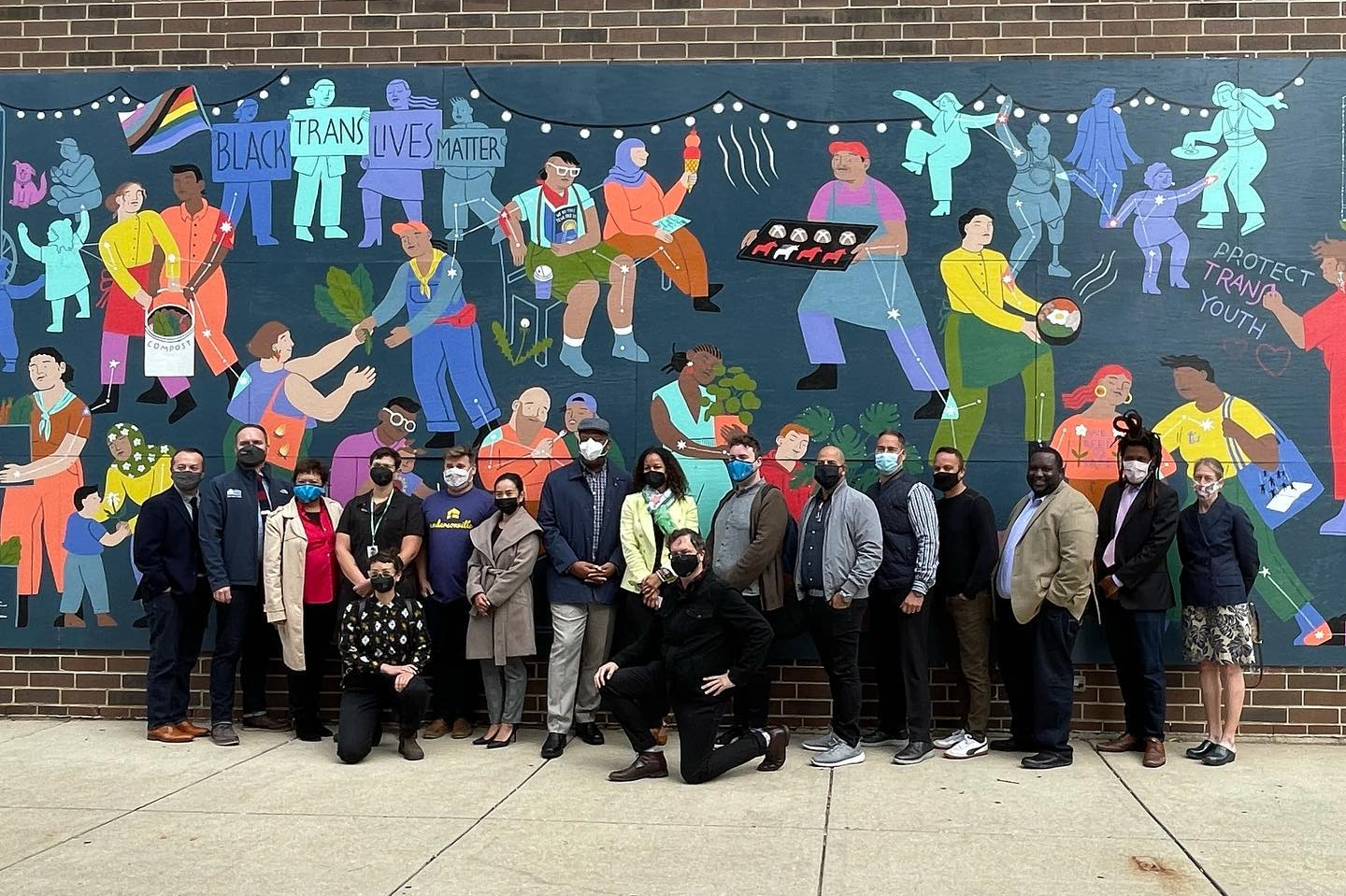 I joined the Andersonville Chamber for the dedication of the Black Trans Lives mural by artist Molly Costello. I remember seeing this mural when it was being painted over the summer and it stopped me in my tracks. It represents so much and gives visibility to our Black trans siblings as well as a visual into all of the diversity in the 7th District. This is a community with "neighbors not watching each other, but truly seeing each other." We have so much to do to support our siblings. Thank you to Molly and to all of the community groups supporting and represented today. Check it out at 5340 N. Clark!
Seniors Legislative Council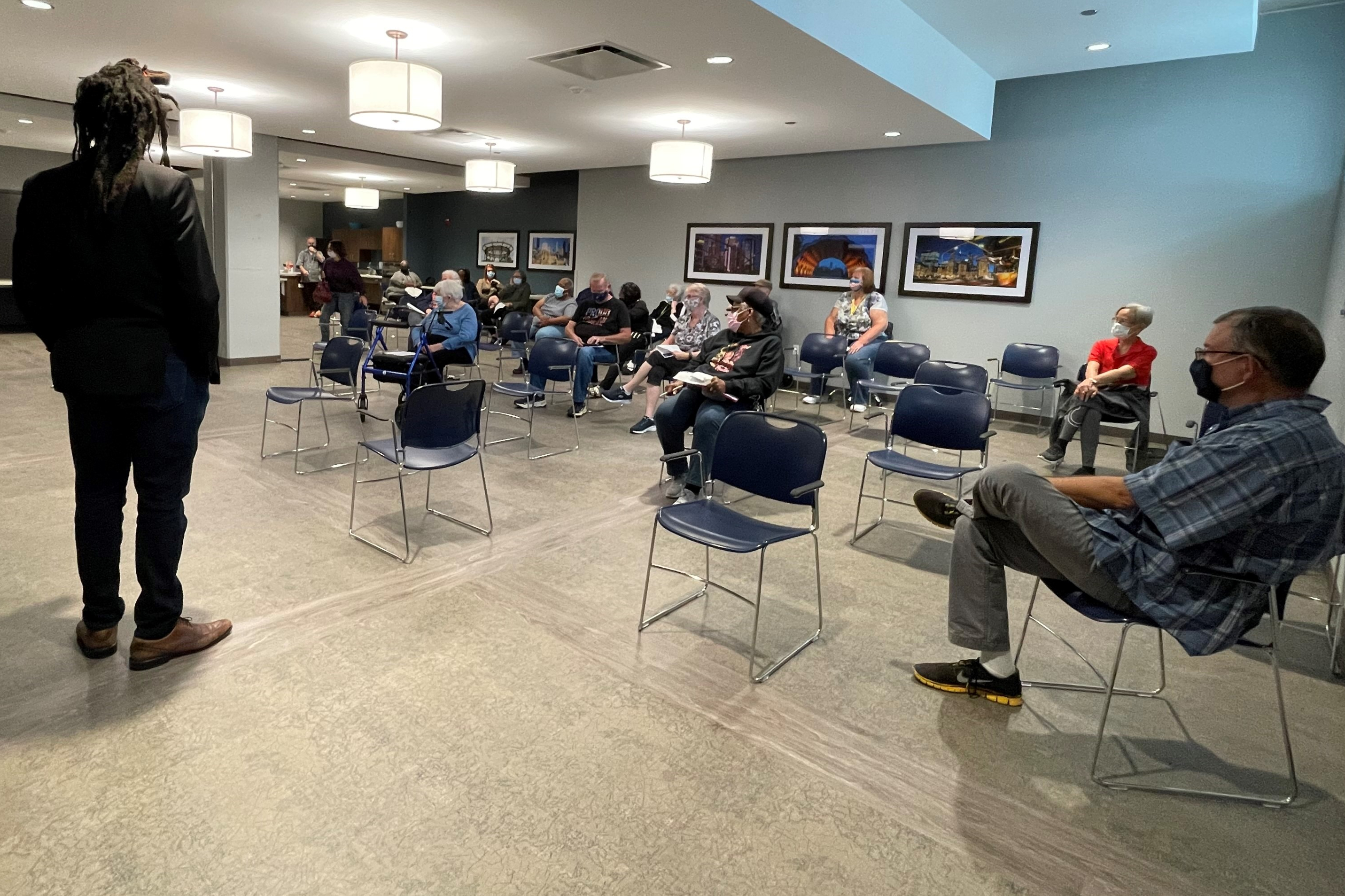 I continued my series of People's Legislative Councils last week, this time meeting with seniors from across the 7th District. I want the voices of the people I represent to be at the center of my work as we collectively work together to shape a legislative agenda for the upcoming spring session.
Andersonville Homecoming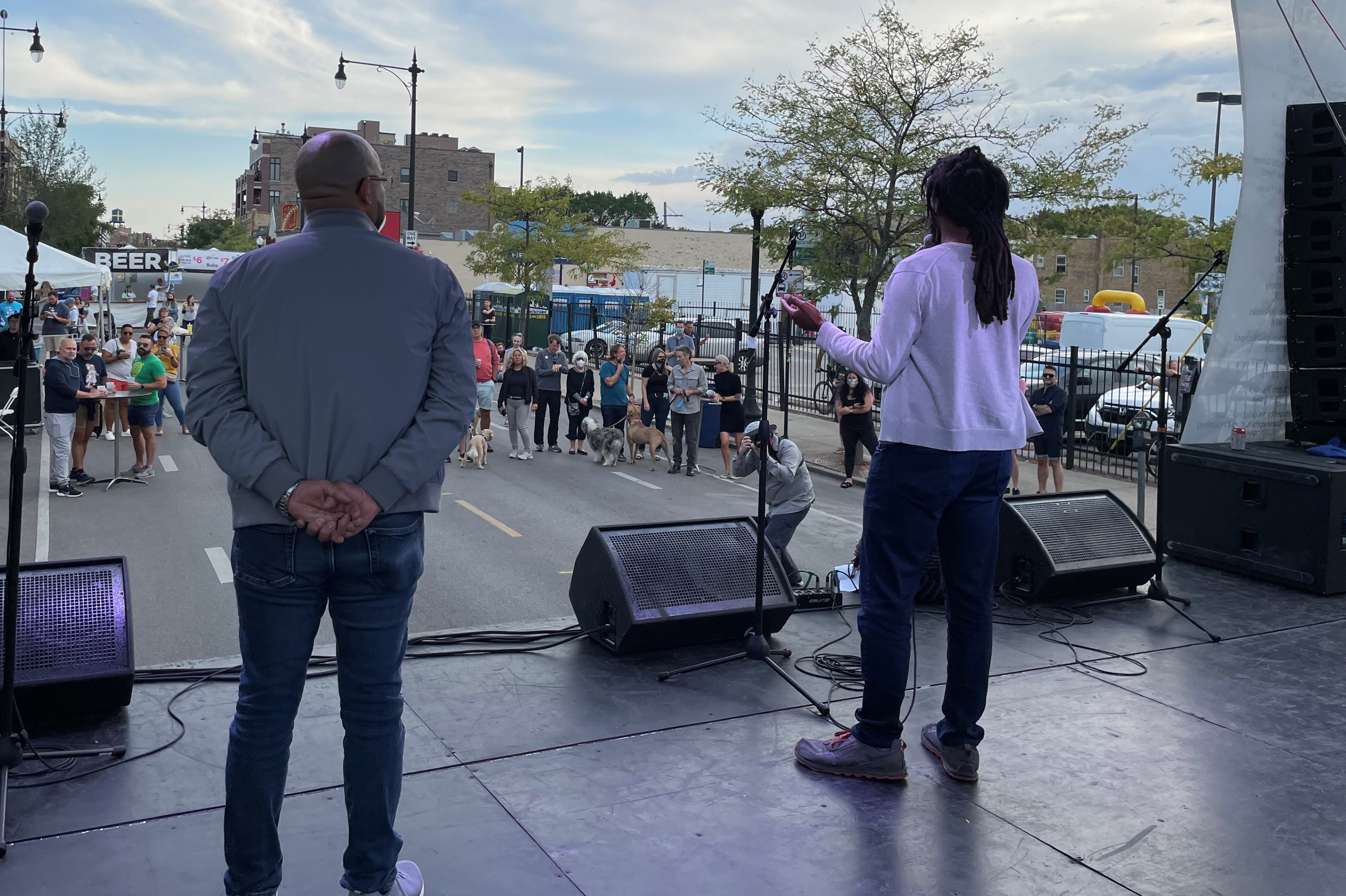 I celebrated Andersonville Homecoming over the weekend. We were lined up and down Clark Street for food, music, community, and celebration. It was a great way to honor one of our city's best communities!
Care for Real 50th Anniversary Block Party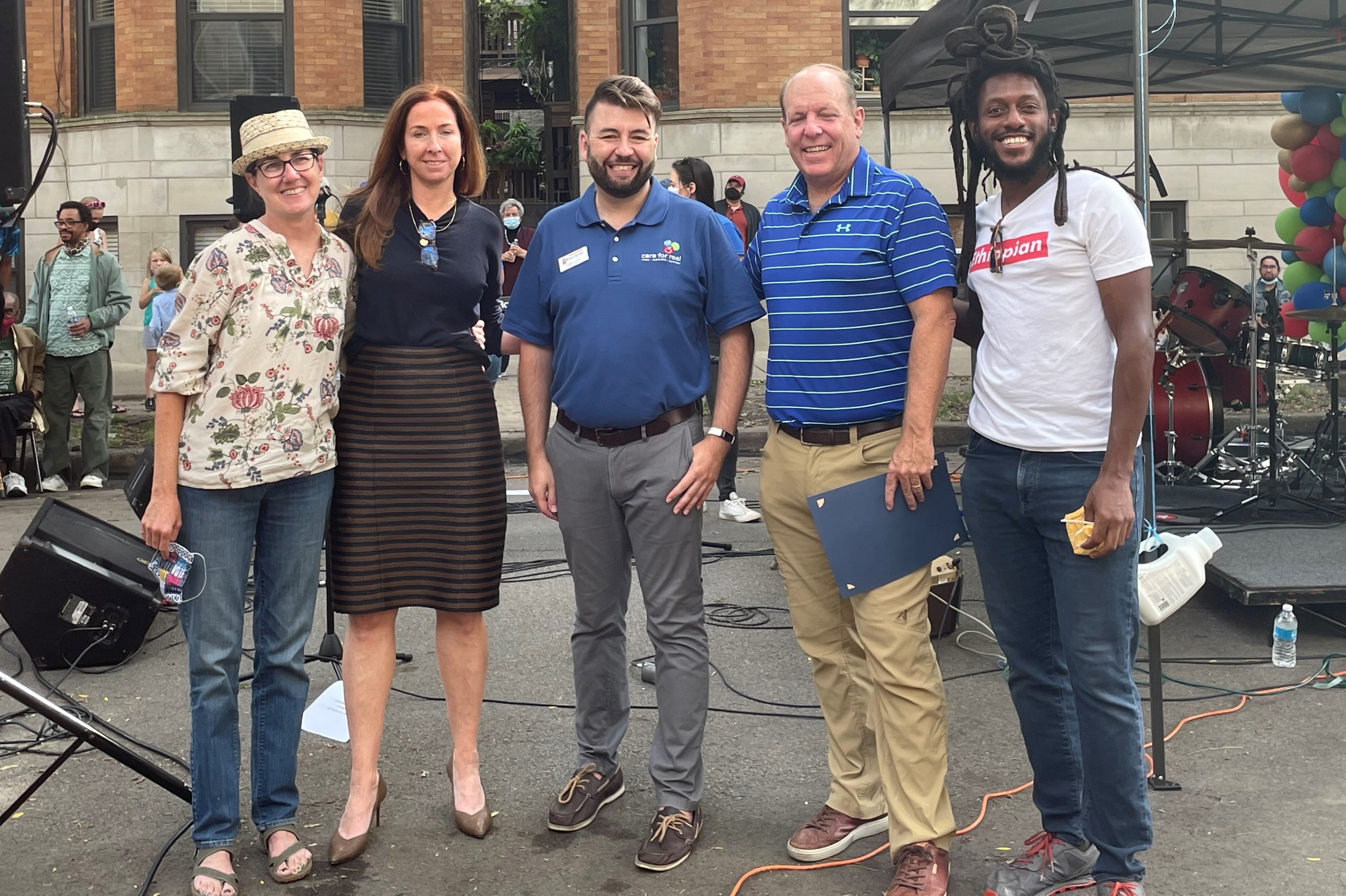 I joined several local leaders at a block party to help celebrate Care for Real's 50th anniversary. Care for Real is an amazing organization in our community that provides food, clothing and support to struggling families. Here's to 50 more years!
Community Drive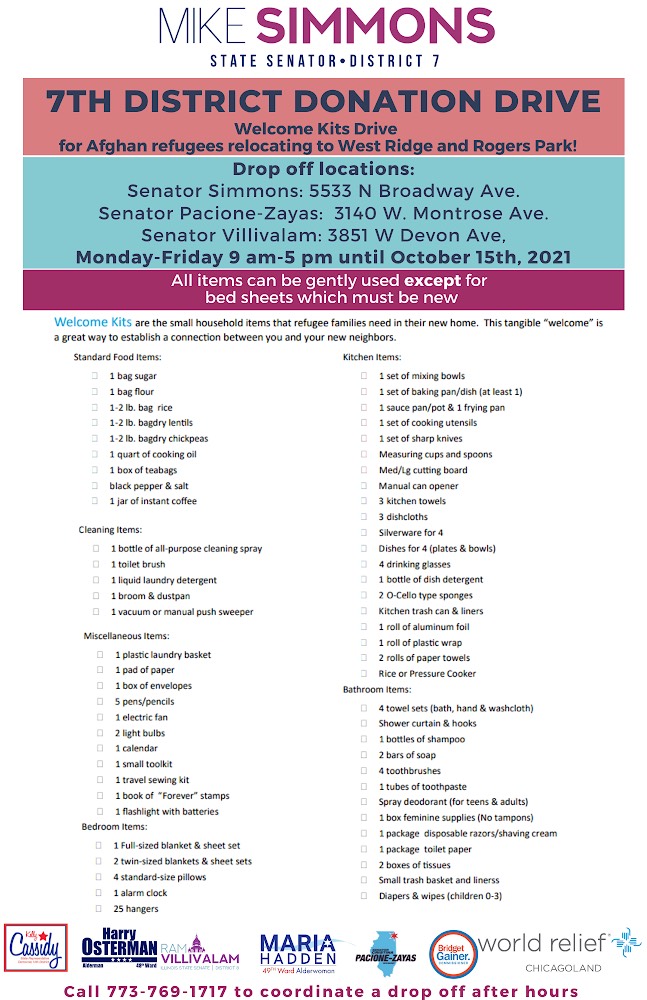 My office is continuing our Welcome Kit drive with World Relief Chicago! Please feel free to come by any of our drop off locations and donate gently used items for our newest neighbors! The only item that must be new are bed sheets. The Welcome Kits lists are provided by World Relief Chicago. Call us with any questions!
Upcoming Events
AIDS Walk and Run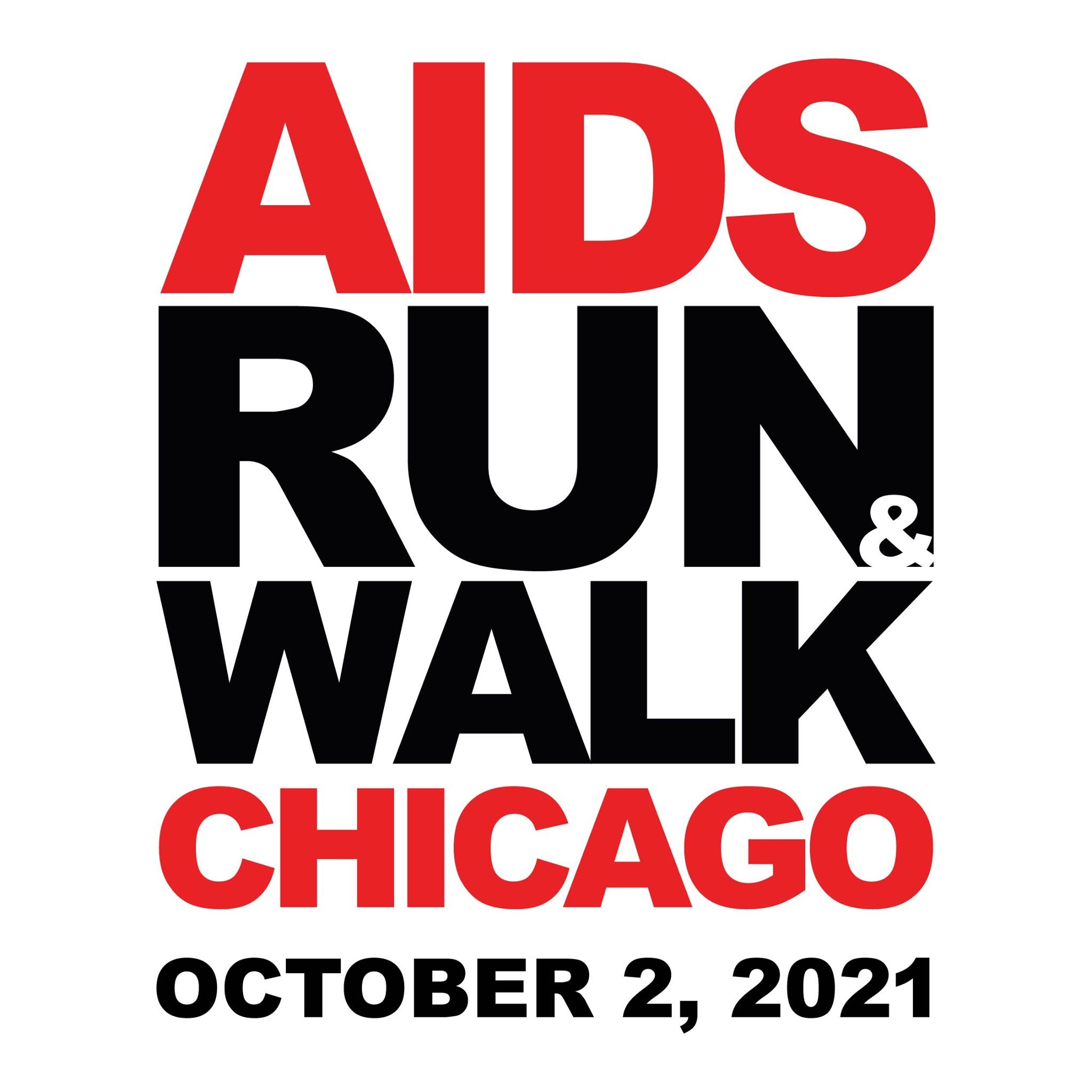 Register here.
Family Matters Walk and Roll-a-thon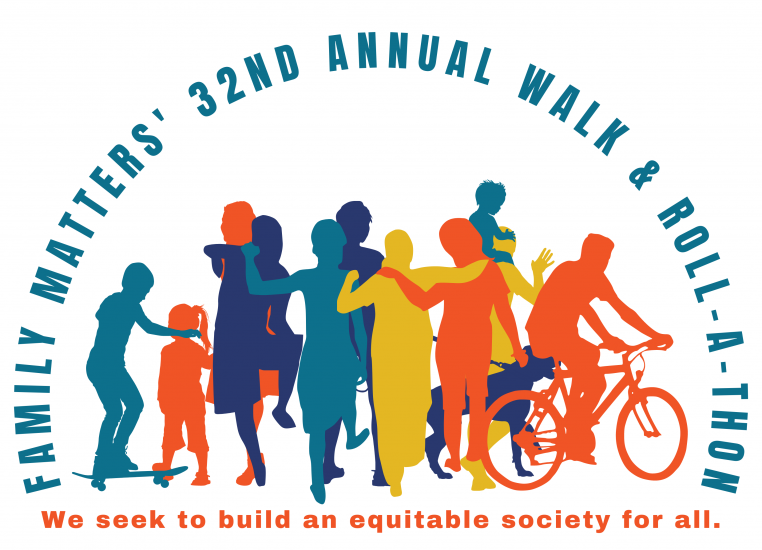 Family Matters Chicago is hosting its 32nd Annual Walk & Roll-A-Thon, a much-anticipated event that brings together youth, families and the community in joyful celebration. It will take place Saturday, Oct. 2 from 9:30 a.m. – 2:30 p.m. at Willye B White Park.
Vaccination Event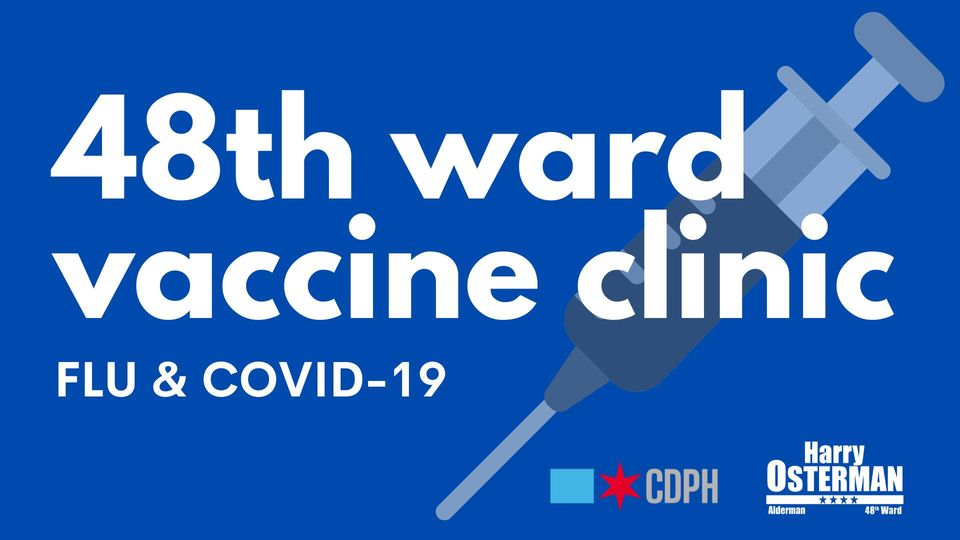 The 48th Ward is hosting a flu and COVID-19 vaccine event in Jubilee Hall at St. Ita's Church, 5500 N. Broadway. Please bring an ID and health insurance card with you if you have them. No one will be turned away due to insurance or immigration status. Please register in advance here.
As always, please do not hesitate to contact my office at (773) 769-1717 if we can help you with anything.
Sincerely,

Mike Simmons
State Senator | 7th District
Category: Newsletters